Freestyle 2 handheld Scanner

FARO Freestyle 2 Handheld Scanner is an easy-to-use scanner that allows you to quickly capture 3D data of any object, from small parts to large structures. The scanner's intuitive user interface and automatic feature recognition make it easy to capture precise 3D data quickly, accurately, and cost-effectively.
The FARO Freestyle 2 Handheld Scanner is a great tool for a variety of applications including reverse engineering, quality control, and 3D documentation. The scanner's portability allows you to take it to the job site, eliminating the need for costly on–site setup. The scanner's automatic feature recognition makes it easy to capture intricate details of any object, even in tight spaces.
The FARO Freestyle 2 Handheld Scanner also has a range of features that make it easy to use. The scanner has an intuitive user interface that makes it easy to capture 3D data quickly and accurately. The scanner is also designed to be user-friendly, with features like automatic calibration and automatic feature recognition, so you don't have to worry about the accuracy of your scans.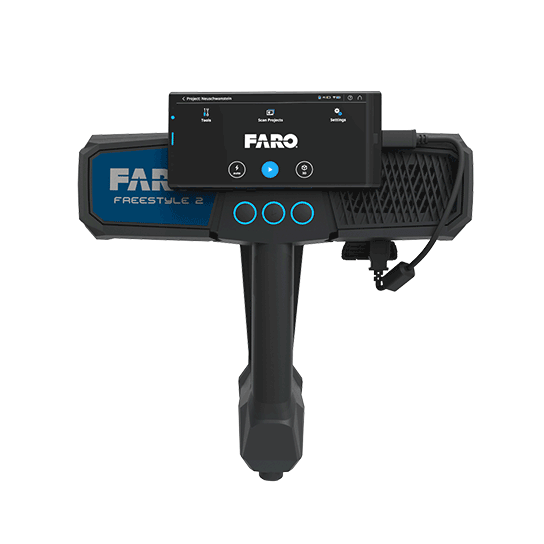 No Annual Calibration Required
Documentation of Critical Details in 3D
Proprietary Tracking Engine
Lighting Condition Flexibility
Ability to Export Compatible Point Clouds