The Quantum Max Scan Arms are the latest in 3D scanning technology. They combine FARO's advanced imaging technology with intuitive and easy–to–use software, allowing you to capture detailed, high–quality 3D images of objects in a fraction of the time.
The Quantum Max Scan Arms have a wide range of features to make your 3D scanning projects easier and faster than ever. The arms are lightweight and ergonomically designed, allowing you to easily move them around your workspace. They also feature an intuitive touchscreen and an easy–to–use software interface to make it simple to capture detailed 3D images and measurements.
The Quantum Max Scan Arms are also highly accurate and precise, with an accuracy of 0.075 mm and a resolution of 0.025 mm. This makes them perfect for capturing detailed and accurate 3D images of objects for a variety of applications, such as industrial design, reverse engineering, and quality control.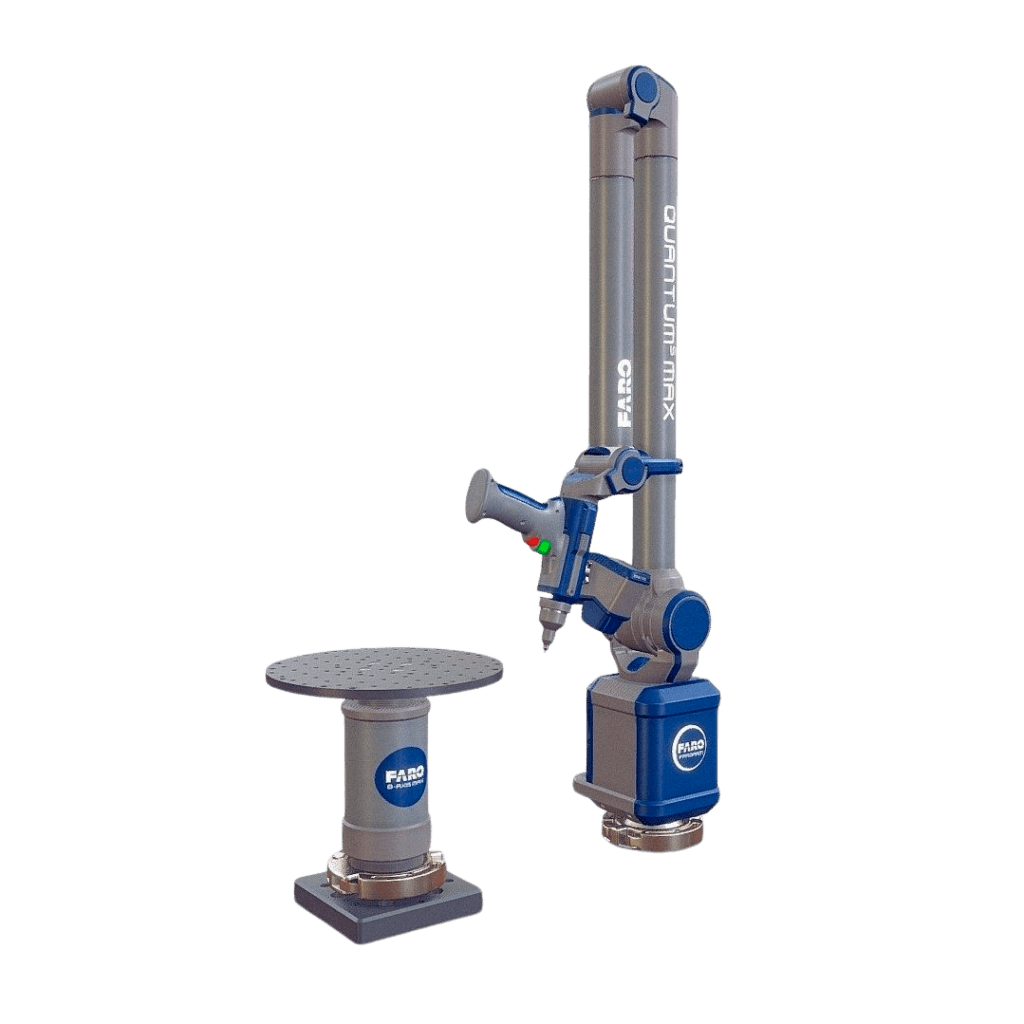 If you're looking for a reliable and intuitive 3D scanning solution, look no further than the Quantum Max Scan Arms from FARO. Contact Global CAD Technology today to learn more about Quantum Max ScanArm.
Family of Laser Line Probes (LLPs)
Continuous Light Rectification (CLR) Technology
Internal Counterbalancing
Exclusive 8-axis Integration
Temperature and Overload Sensors
Powerful Software Solutions
Extended Battery Use Option
High-speed Wireless Operation
ScanArm System Accuracy - Non-Contact Measurement** (FaroArm with LLP)
FaroArm Accuracy - Contact Measurement* (7 Axis)
FaroArm Accuracy - Contact Measurement* (6 Axis)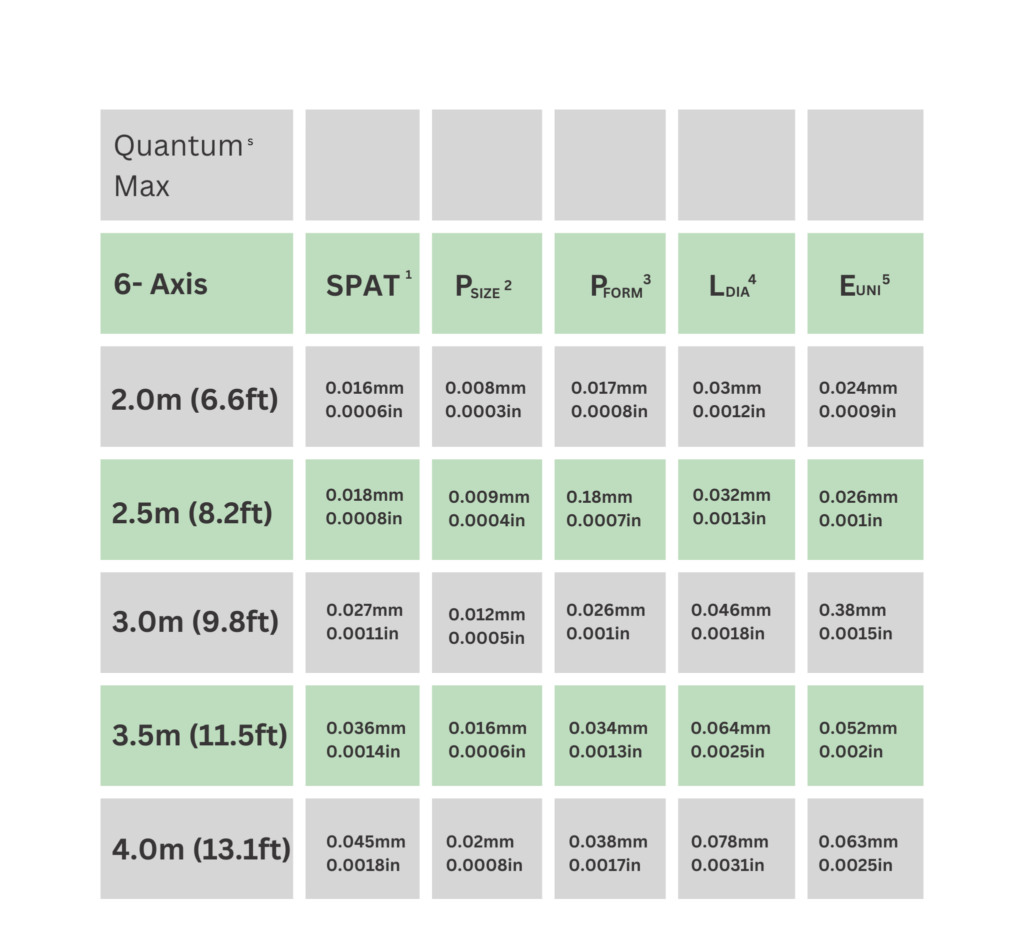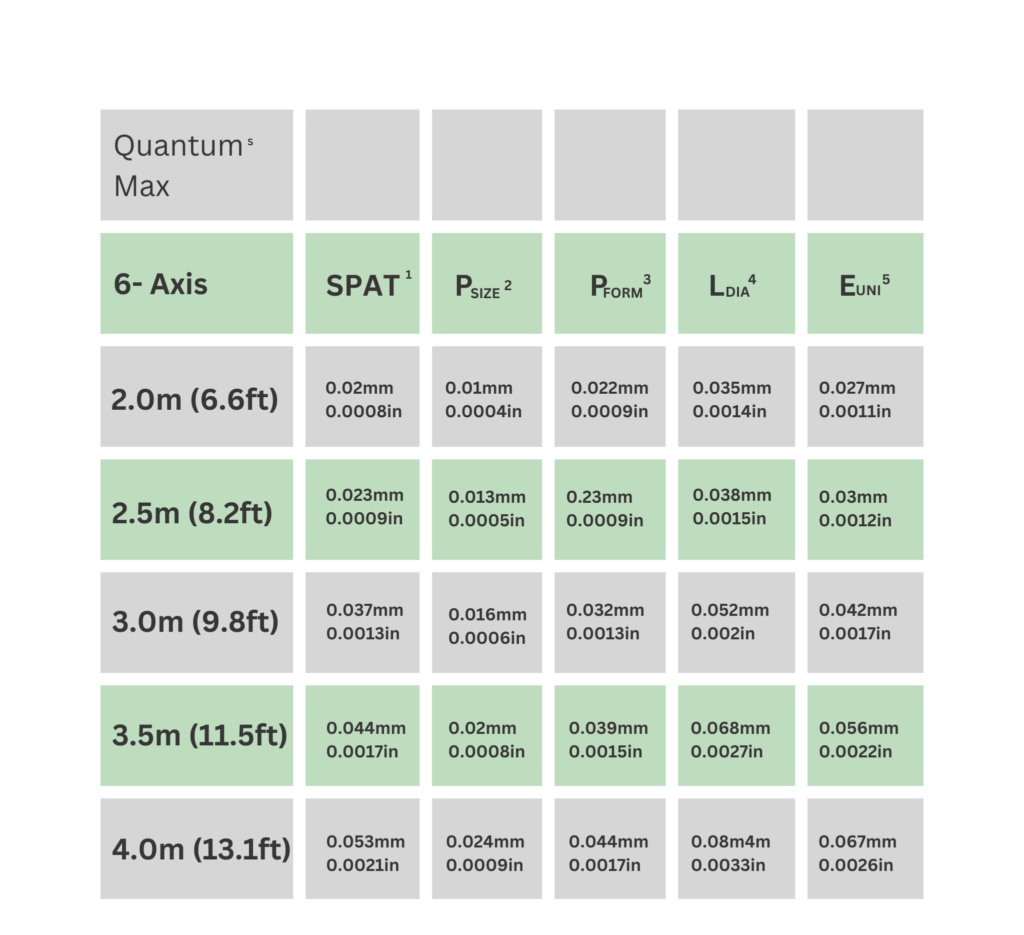 All values represent MPE (Maximum Permissible Error)
 * Contact Measurement (FaroArm) : In Accordance with ISO 10360-12. With optional 8-Axis (FaroArm + 8-Axis) full system performance based on      ISO10360-12 Sphere Location Diameter Error (LDIA)
 ** Non-Contact Measurement (ScanArm and ScanArm + 8-Axis): Based on ISO 10360-8 Annex D; defined as LDIA (Sphere Location Diameter Error) – Diameter of the spherical zone containing the centers of a sphere measure from multiple orientations. Values are absolute
              1 SPAT – Single Point Articulation Test
             2 EUNI – Distance Error between two points comparing measured versus nominal values
             3 PSIZE – Sphere Probing Size Error comparing measured versus nominal values
            4 PFORM – Sphere Probing Form Error
            5 LDIA – Sphere Location Diameter Error (Diameter of the spherical zone containing the centers of a sphere measured from multiple                                 orientations)