Contact probes may not always be able to record all of the measurements of a component or tool due to their complexity. However, lasers work incredibly quickly and precisely. 
Leading manufacturers use FARO Quantum Max ScanArms in these situations because they combine a laser line probe's non-contact functionality with the measurement capabilities of a Quantum Max FaroArm® portable coordinate measuring machine (CMM). Depending on the project's need, the Quantum Max additionally provides three LLPs that maximize accuracy, speed or a combination of the two. Whichever LLP you select, 3D ScanArms can take exact measurements in almost any setting, from the field to the industrial floor.
Maximum Performance, Maximum Resolution & Accuracy, Maximum Productivity, and Maximum Speed are all capabilities of the FARO Quantum Max ScanArms. Furthermore, it has an 8-Axis Scanning Platform: Any Quantum V2 ScanArm can scan more quickly.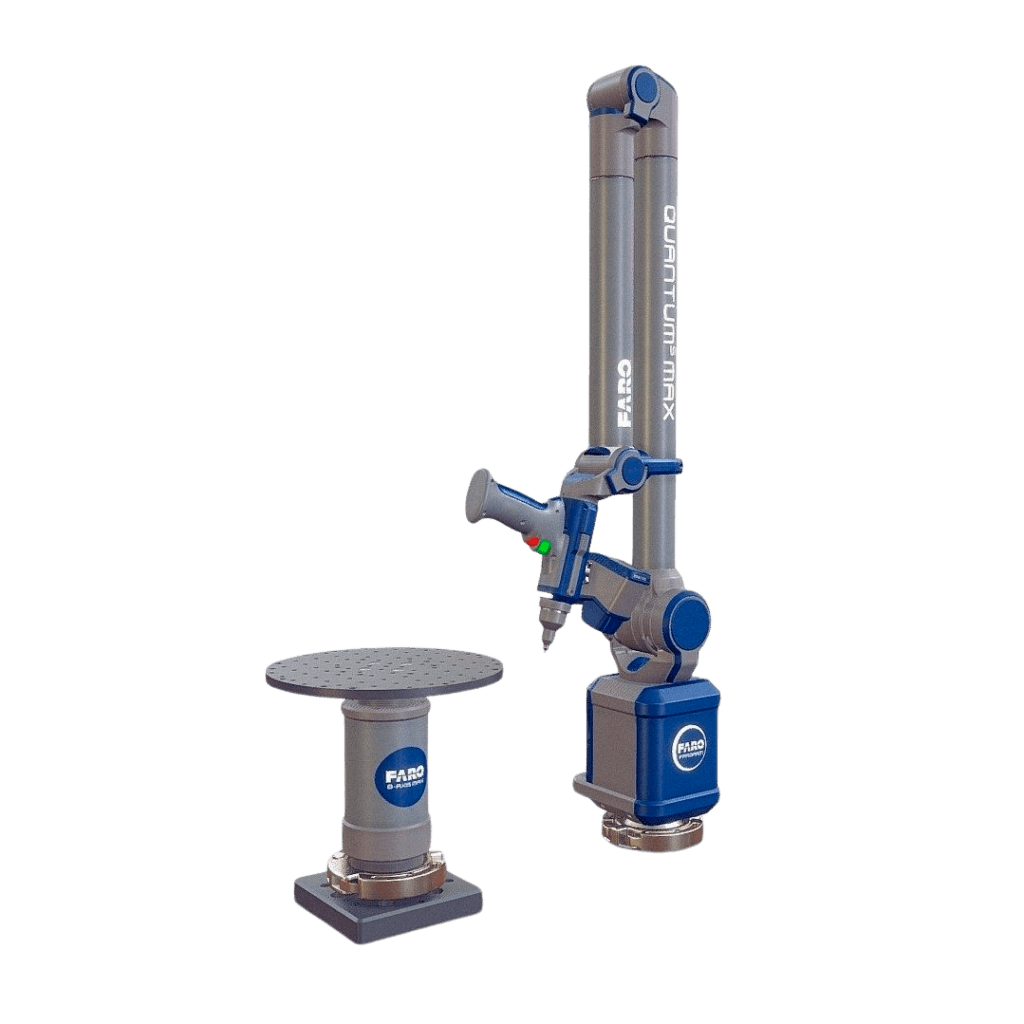 Family of Laser Line Probes (LLPs)
Continuous Light Rectification (CLR) Technology
Internal Counterbalancing
Exclusive 8-axis Integration
Temperature and Overload Sensors
Powerful Software Solutions
Extended Battery Use Option
High-speed Wireless Operation
ScanArm System Accuracy - Non-Contact Measurement** (FaroArm with LLP)
FaroArm Accuracy - Contact Measurement* (7 Axis)
FaroArm Accuracy - Contact Measurement* (6 Axis)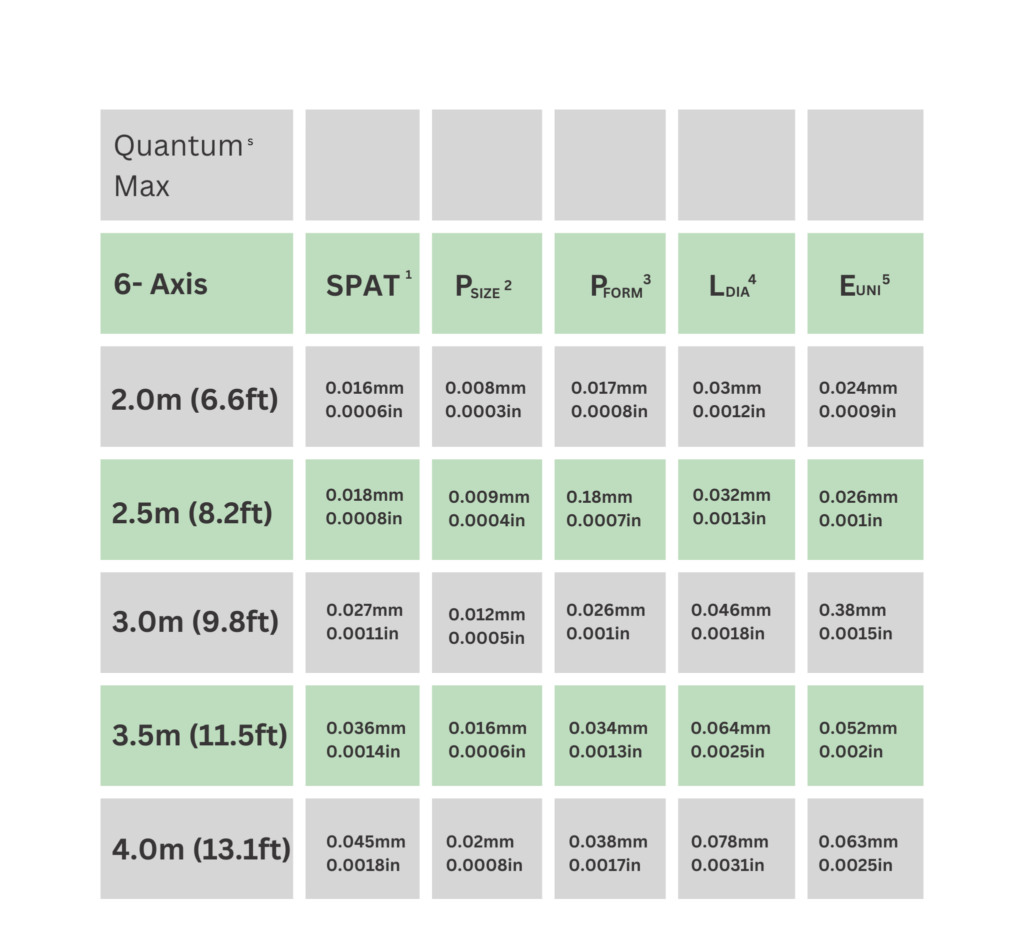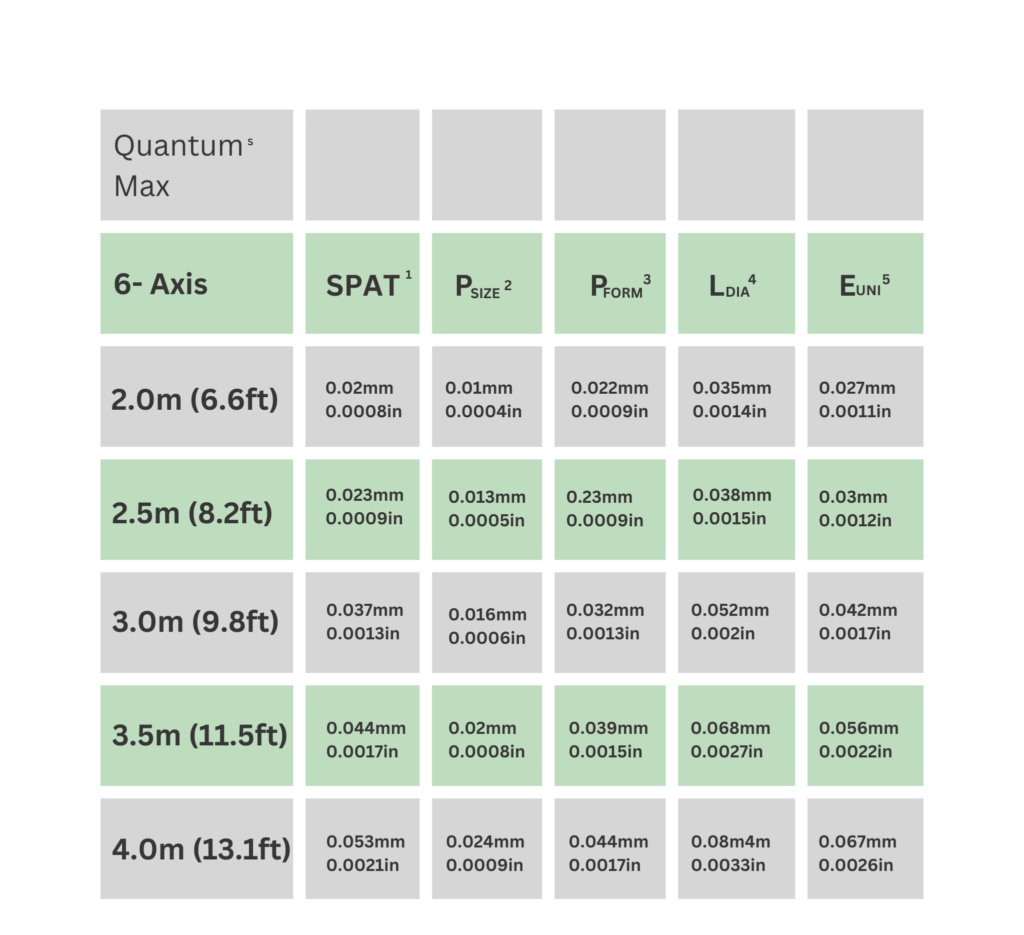 All values represent MPE (Maximum Permissible Error)
 * Contact Measurement (FaroArm) : In Accordance with ISO 10360-12. With optional 8-Axis (FaroArm + 8-Axis) full system performance based on      ISO10360-12 Sphere Location Diameter Error (LDIA)
 ** Non-Contact Measurement (ScanArm and ScanArm + 8-Axis): Based on ISO 10360-8 Annex D; defined as LDIA (Sphere Location Diameter Error) – Diameter of the spherical zone containing the centers of a sphere measure from multiple orientations. Values are absolute
              1 SPAT – Single Point Articulation Test
             2 EUNI – Distance Error between two points comparing measured versus nominal values
             3 PSIZE – Sphere Probing Size Error comparing measured versus nominal values
            4 PFORM – Sphere Probing Form Error
            5 LDIA – Sphere Location Diameter Error (Diameter of the spherical zone containing the centers of a sphere measured from multiple                                 orientations)